Customer Advice COVID-19
27-03-2020
As schools face the many challenges caused by Coronavirus (COVID-19), we want to assure you that at AMI Education, we are closely monitoring the situation to ensure we can continue to support our customers.
We take our duty of care to our employees, customers and clients very seriously, and we will always follow the latest Government advice.
Advice to Schools
As a valued AMI Education customer, we appreciate the trust you put in us to ensure your systems continue to work seamlessly, so we have outlined our continuity plans below.
School Closures
If your school should need to close, we ask that your systems remain switched on and running. Keeping your systems running will allow our support team to carry out remote upgrades and work on outstanding cases, helping to reduce any issues and ensuring your return to school is as seamless as possible.
Ongoing Support
In the event of COVID-19 closing the AMI office, or employees working from home in isolation, staff will be working from home using their office equipment.
For sales, please ring: 08456 717 101 or email: sales@amieducation.com
For support please: 08450 714 667 or email: support@amieducation.com
As usual, these will be picked up by the support/sales team and dealt with.
We may have to postpone already arranged site visits, and there may be some delay in processing orders for parts. We encourage you to continue to place orders as usual, and we will update you on the expected timelines as the order progresses.
Staying Safe
As the coronavirus situation evolves, our thoughts go out to all affected. We hope you are safe and are taking all the necessary precautions.
20-02-2023
At ami Education, we understand that schools have unique priorities and face diverse challenges in their schools. As a leading provider of cashless catering solutions, we want to offer the best experience possible for schools.


To achieve this, we've created a short survey to gather feedback on schools' priorities for this year and to understand better how we can ensure those in the industry receive the most relevant information and support from ami Education.


By completing our survey, UK and international schools can share their feedback on what matters most to them and help us identify their most pressing challenges. This valuable feedback will allow us to tailor our solutions to meet specific school staff and pupil needs and provide the support and resources to help them achieve their goals.
The survey will take just a few minutes to complete, and the information provided will help us to deliver a better experience to all our potential and existing customers.

How can we help you?
Our mission is to help schools make a positive impact in their school communities. We have a team of experts with years of experience who can identify and address the most pressing challenges in their schools with our solutions.


Whether you're looking to reduce food waste, improve cashless catering, streamline stock control, or enhance your pre-ordering system, we're here to help. Our innovative solutions are designed to meet the unique needs of schools, making it easy for educators to make informed decisions and take control of their catering operations.


Together, we can work towards making your school a more efficient, cost-effective, and sustainable environment for all.
Education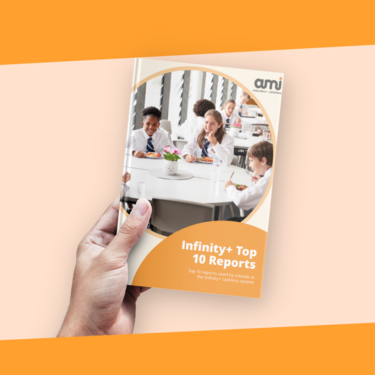 15-08-2022
Popular reports downloaded from ami Education's Infinity+ cashless system.
Catering reports offer valuable insights for schools. From using food ordering reports to improving the decision-making process when planning menus to free school meal usage insights, utilising this type of information plays a significant role in helping schools to improve processes for future investments.
There are many ways reports from cashless software, like Infinity+, can help caterers learn more about the business. Infinity+ offers fully automated reporting, with the ability to download reports into Excel. Infinity+ enables schools to gain insights faster, make informed decisions, and help increase school meal uptake.

By using the Infinity+ cashless catering system, caterers and schools can download reports such as free school meal usage and meal uptake. These reports give caterers the upper hand in knowing important information, like how many school meals to prep for each day, which meals aren't selling well, and more. Understanding essential data like this helps caterers reduce the amount of wasted food, which trickles down to saving money and time spent ordering new stock.

There are ten popular reports from Infinity+ cashless that schools and caterers use to make informed decisions, helping them save time on banking activities and understand sales trends. 

Catering Report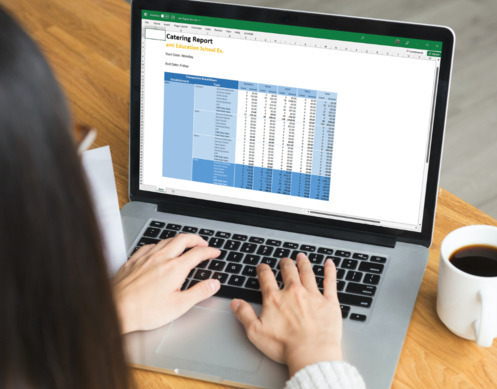 The 'catering report' is the most popular report used by ami Education customers. The report gives the caterers the resources to break down transactions by period, account type, and amount of supplement spent at multi-establishment sites. Caterers can get an in-depth overview of school lunch transactions, helping to predict ordering trends from pupils. An overview of school lunch transactions is vital, as it lowers the chance of food waste and knowing what stock to order for the future.
Sales Mix Report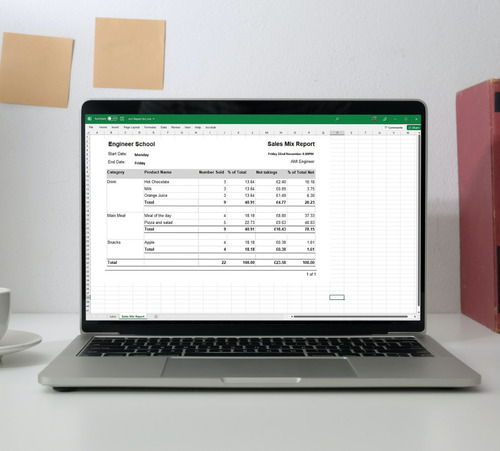 Knowing the number of products sold can significantly increase the understanding of favoured food/drink items. The sales mix report provides caterers and schools with an overview of the number of products sold, split by product categories during a specified date or time frame. Utilising this report can save caterers and schools the manual process of working out sales at the end of the day, week or month, allowing them to compare product sales to previous months.



To see the eight other popular reports used by schools and caterers, download our top 10 Infinity+ Reports guide to learn more!