7 steps to improving nutrition in schools
10-06-2021
The role of schools in forming lifelong healthy eating habits cannot be underestimated. By providing effective nutrition education alongside healthy school meals, schools can equip pupils with the tools to make healthier choices in adolescence and later life.
This week marks the British Nutrition Foundation's Healthy Eating Week, which focuses on the 'finding your healthier you' journey. We have compiled seven practical steps to improve nutrition in schools and encourage positive long-term eating habits.
What are the government food standards and regulations for schools?
According to gov.uk, food served in schools and academies in England must meet the School Food Standards so that children have healthy, balanced diets.
Meals must provide high-quality meat, poultry or oily fish, fruit and vegetables, bread, and other cereals and potatoes. There cannot be drinks with added sugar and crisps, chocolate or sweets in school meals or vending machines, alongside a limit of no more than two portions of deep-fried, battered, or breaded food a week.
Are schools delivering adequate nutrition to staff and pupils?
Whilst the School Food Standards are in place to ensure schools encourage pupils to develop healthy food choices; some schools struggle to get the correct nutrition and balanced diet to not only their students but to their staff body, and for various reasons.
There are various reasons for this struggle, and one most evident is the lack of efficient management in their school systems.
One of the biggest offenders of an unhealthy diet in pupils is the day-to-day slog of mealtime queuing in schools. Long wait times with shorter lunchtimes increase pupils' likelihood of making lunch choices based on convenience and availability.
Therefore, mealtime queuing can be one of the main contributors to unhealthy food choices in schools, leading to malnutrition, reduced productivity, and childhood obesity.
Out-of-gate spending
As pupils turn to alternative methods to queue for school lunches, out-of-gate spending increases further. According to Q Minder, a secondary school in London found that its pupils rejected food in a school canteen and instead favoured the option to leave school grounds and purchase their lunches, rather than queue for the school meals provided.
This kind of out-of-gate spending can mean students are consuming unhealthy foods for lunch, which the school cannot have complete control over, increasing the risk of childhood weight gain and poor nutrition in children.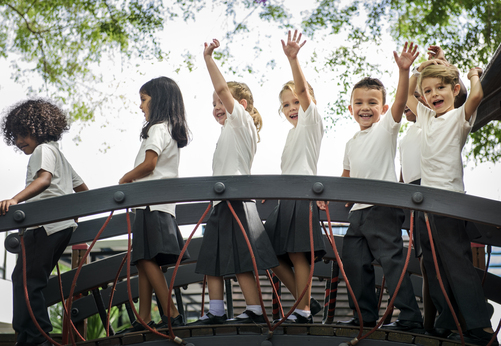 Doctor Dame Sally Davies warns obesity poses such a threat to the country that we should treat it as a national risk alongside terrorism. This statement was accompanied by a survey that found obesity prevalence was 13.9% among 2- to 5-year-olds, 18.4% among 6- to 11-year-olds, and 20.6% among 12- to 19-year-olds.
How can schools teach children about food nutrition and a healthy diet?
According to the school blog KSL, there are seven helpful pointers to assist schools with food with pupils healthily and educationally. These include:
1. Be mindful of language - avoid using 'bad versus good' language surrounding food choices, which teaches kids to categorise food types based on morality can lead to shame and guilt when indulging in the occasional treat.
2. Teach that food is fuel for the body - encourage children to associate nutritious foods with gaining energy to do all the things they love.
3. Encourage trying new foods - use taste testing, introduce variety and teach pupils about the exciting foods on offer in different countries.
4. Teach the principle of variety - provide education on a balanced meal, and link this back to the enjoyment of food and how nutritious food can also be tasty.

5. Back to nature

- connect kids to gardening and agriculture and teach them where foods come from with 'grow your own' activities in lessons.

6. Teach the importance of inclusivity - reinforce the idea that all foods can be included, in moderation, in a balanced diet. Avoid discussing eliminating food groups.
7. Teach kids to respect biological diversity - discuss messages of size diversity in the context of a lesson on nutrition.
The link between cashless operations and pupil diets
Cashless catering systems, such as AMI's Infinity + software, offer complete flexibility and work around each school's requirements. During school mealtimes, cashless systems reduce queues by using quicker identification methods and pre-order payments. These cashless methods ensure pupils spend less time queuing and have more time to eat a healthy school lunch.
The pre-order aspect of this software minimises food wastage whilst providing detailed allergy and dietary requirement information. The app also enables schools to remove any potential discrimination of students by offering Free School Meals (FSM) anonymity.
A LACA survey revealed that 4.9% of pupils entitled to a free school meal do not take up their entitlement, possibly due to parents not wanting their children to face potential embarrassment and discrimination.
A cashless system also promotes healthy eating in schools as it reduces and controls the level of out-of-the-gate spending on unhealthy meals and snacks. Pre-order software, such as the Infinity+ Order pre-order app, mirrors modern food ordering apps such as Deliveroo, which encourages pupils to control their food choices and guarantees they can enjoy their favourite lunch every day.
Healthier lunch options that meet nutritional requirements are among the most effective ways to tackle the childhood obesity crisis, leading to a better learning environment and reducing food insecurity by establishing a lifetime of healthy habits in students.
Furthermore, AMI's Infinity + cashless catering and ID management software enables parents to take an active role in their children's daily school food consumption, despite them not being present at school throughout the day.
When using the Infinity+ Order pre-order app, parents can sit with their children and help them make educated and balanced food choices, ensuring their child is getting a healthy and nutritious meal during school hours. The cashless catering options of AMI Education means parents can rest assured the money spent on school meals is used to make healthy food choices backed by a comprehensive education on nutrition in schools.
Are you looking to make your school cashless?
Get in touch with our team to see how ami's cashless solutions can benefit your school.

ami News
25-05-2023
The Schools & Academies Show is an exciting event that brings together education professionals, school leaders, and decision-makers across the UK. The show serves as a platform for showcasing innovative solutions, such as cashless catering, and sharing best practices in the education sector.


Amidst the buzz and enthusiasm, ami Education had the pleasure of exhibiting at the event alongside Tucasi, payment and administration software providers.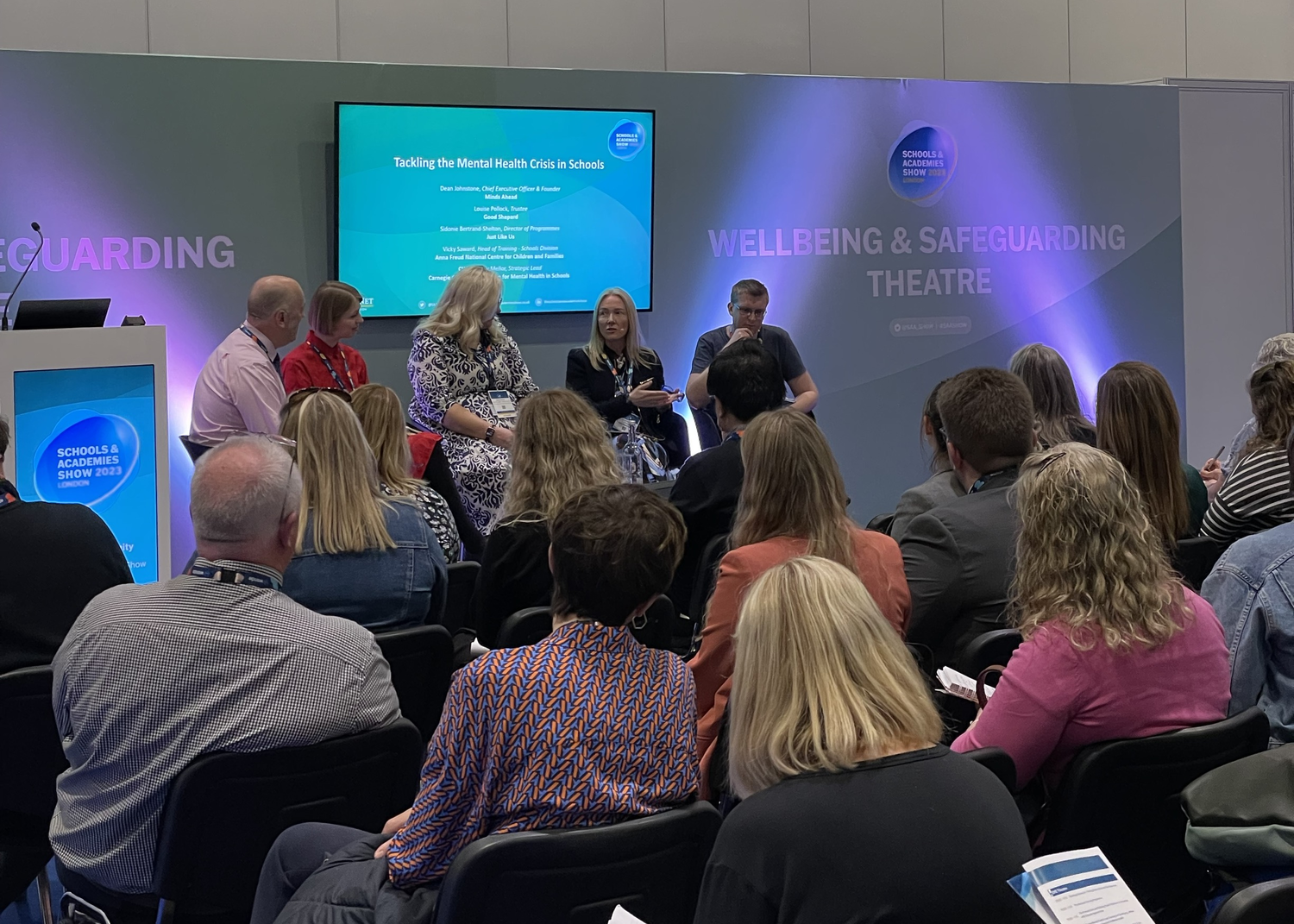 Infinity+ Cashless and Chip & Pin live demonstrations
At the Schools & Academies Show, ami Education proudly showcased the Infinity+ Cashless catering system, revolutionising cashless processes in UK and international schools.


The live demonstrations highlighted the seamless and efficient point-of-sale experience, impressing attendees. This smart system manages student accounts and processes orders at the point of sale effortlessly, providing a convenient and secure dining experience. Visitors learned about the extensive reporting suite, offering insights from free school meal usage to catering reports and discovered how to harness this data to streamline operations and reduce administrative tasks.


Furthermore, ami Education debuted their highly anticipated Chip & Pin technology, which received a positive response at the event. Popular amongst sixth forms and secondary schools, attendees experienced the contactless solution and appreciated the availability of multiple payment methods. Attendees saw first-hand how ami Education's Chip & Pin terminals optimise the dining experience and empower educational institutions to streamline operations and provide a seamless payment experience.
"Our POS software is evolving with features such as Chip & Pin and additional features. But the next big thing we've got to do now is go cloud-based."
- Tony Reeves, General Manager.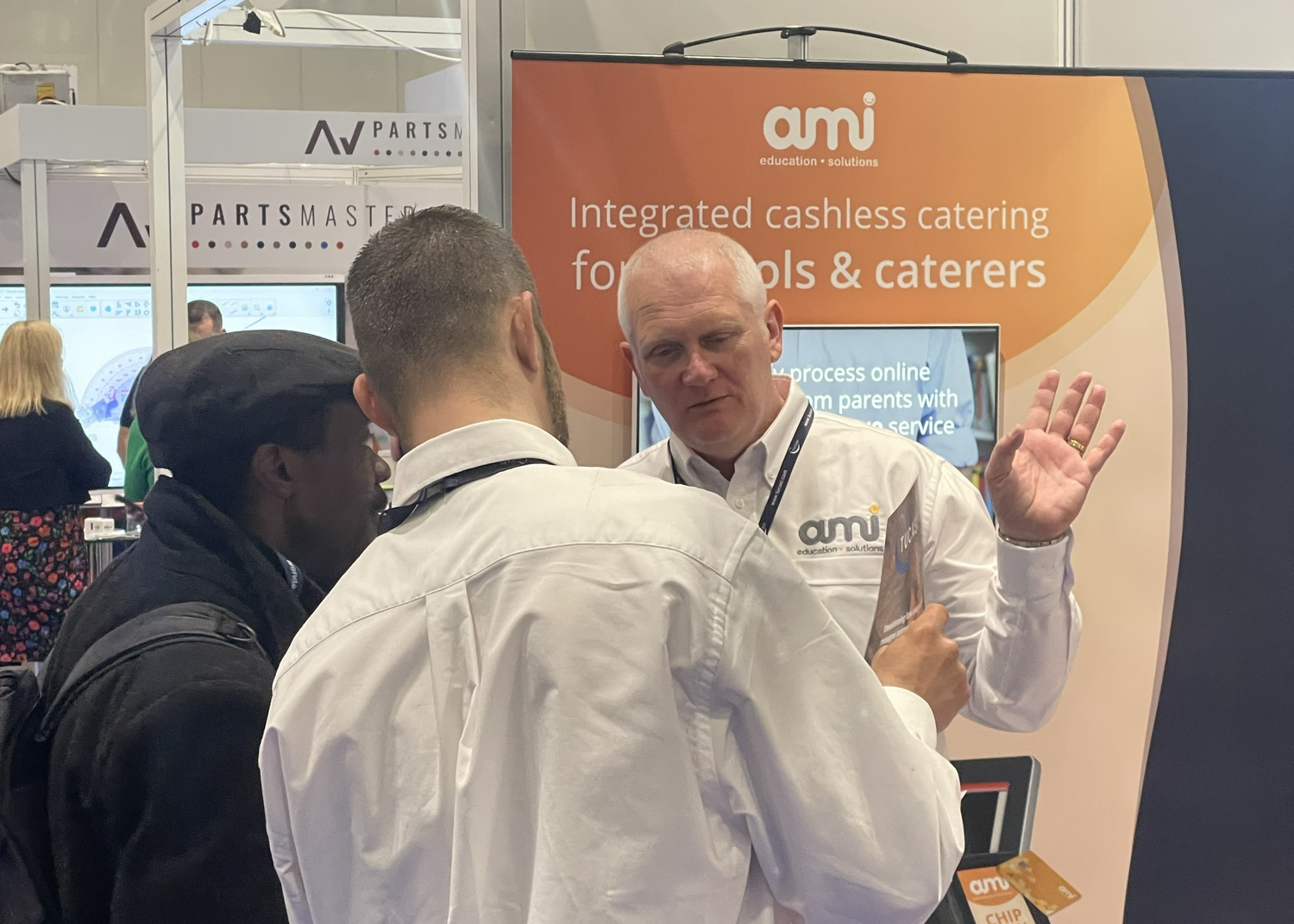 Infinity+ Order receives positive engagement with attendees
Alongside the Infinity+ Cashless & Chip & Pin demonstrations, ami Education was excited to showcase its cutting-edge Infinity+ Order pre-order school meal app at the Schools & Academies Show. The demonstrations highlighted how students could seamlessly check balances, browse menus, and conveniently pre-order their meals from their mobile phones.
This revolutionary app transforms how students order their meals, ensuring efficiency and convenience. With Infinity+ Order, pupils have easy access to a wide range of menu options, the ability to pre-order meals in advance, and the flexibility to customise their choices based on dietary requirements or allergies.
The Infinity+ Order app empowers staff to efficiently manage meal preparation and reduce food waste by accurately anticipating meal demand. This topic was very relevant at the show due to the current challenges schools and academies face. The app lets pupils control their dining experience, ensuring they receive their desired meals quickly and conveniently.

"Schools are starting to like the pre-order solution, as they can allow pupils to pre-order up to three weeks in advance. Pupils only have to go to the till point and collect their meal."
- Tony Reeves, General Manager.
ami Education's participation in the Schools & Academies Show at the London Excel was met with excitement and enthusiasm.


The Schools & Academies Show served as an excellent platform to showcase our solutions, and we are grateful for the opportunity to contribute to positive change in school catering. ami Education remains dedicated to driving innovation, fostering positive experiences, and propelling the education sector forward.


To gain further insights into the exciting world of ami Education,

watch our exclusive interview

with Tony Reeves, our General Manager. In the interview, Tony delves into groundbreaking innovations, transformative approaches, and the future of cashless solutions in education. This interview provides a deeper understanding of our commitment to advancing education institutions.

If you couldn't attend the event but still want a demonstration, don't worry! Book a demo with our team today to learn about implementing cashless catering, pre-ordering or Chip & Pin software in your school. Our team are here to provide all the information and support you need.
ami News
02-05-2023
We are delighted to announce that ami Education will be showcasing our Infinity+ cashless catering product suite at the upcoming Schools and Academies Show in Excel, London, on May 17th.
Explore Our Infinity+ Cashless Catering Product Suite
We are excited to join forces with school admin and online payment provider Tucasi at stand G16 to demonstrate our integrated cashless and online payment solutions for schools and academies.


During the event, we will showcase our Infinity + cashless catering product suite, including brand-new Chip & Pin payments and pre-order meal app, designed specifically for secondary school and sixth-form students. Attendees will benefit from a first-hand demonstration of our cashless software.



"We can't wait to team up with Tucasi to bring our integrated cashless solutions to the Schools and Academies Show. As one of the key events in the education calendar, the show will offer an excellent chance to provide real-time demonstrations of exciting new developments from ami Education and, importantly, connect with professionals and find out more about their school needs and discover how we can support their development plans."

-Tony Reeves, General Manager at ami Education.


Discover the Latest Cashless and Online Payment Solutions
The Schools and Academies Show is a great opportunity for schools and academies to discover the latest technology and products for the education sector. At ami Education, we are excited to showcase our unique product offering which combines our Infinity+ cashless system with a comprehensive reporting suite, pre-order and payment options, and fast speed of service, all fully integrated with Tucasi's SCOPAY online payment app.


Whether you want to streamline your cashless payments, improve your catering service, or simply want a faster, more efficient payment system, our solutions are tailored to meet the needs of schools and academies of all sizes.
Book Your Ticket
You can book your free event ticket for the Schools and Academies Show here. If you are attending the Schools and Academies Show, visit our team at stand G16 to learn more about our unique cashless and online payment solutions.


For those who cannot attend the show but would like to learn more about our cashless solutions, please book a demonstration with our team.