Customer Advice COVID-19
27-03-2020
As schools face the many challenges caused by Coronavirus (COVID-19), we want to assure you that at AMI Education, we are closely monitoring the situation to ensure we can continue to support our customers.
We take our duty of care to our employees, customers and clients very seriously, and we will always follow the latest Government advice.
Advice to Schools
As a valued AMI Education customer, we appreciate the trust you put in us to ensure your systems continue to work seamlessly, so we have outlined our continuity plans below.
School Closures
If your school should need to close, we ask that your systems remain switched on and running. Keeping your systems running will allow our support team to carry out remote upgrades and work on outstanding cases, helping to reduce any issues and ensuring your return to school is as seamless as possible.
Ongoing Support
In the event of COVID-19 closing the AMI office, or employees working from home in isolation, staff will be working from home using their office equipment.
For sales, please ring: 08456 717 101 or email: sales@amieducation.com
For support please: 08450 714 667 or email: support@amieducation.com
As usual, these will be picked up by the support/sales team and dealt with.
We may have to postpone already arranged site visits, and there may be some delay in processing orders for parts. We encourage you to continue to place orders as usual, and we will update you on the expected timelines as the order progresses.
Staying Safe
As the coronavirus situation evolves, our thoughts go out to all affected. We hope you are safe and are taking all the necessary precautions.
Education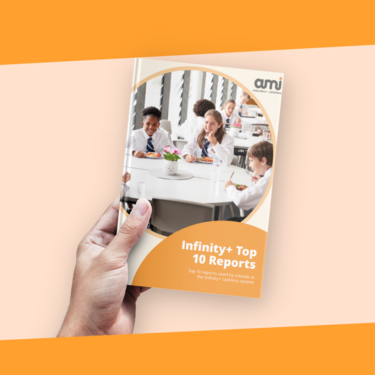 15-08-2022
Popular reports downloaded from ami Education's Infinity+ cashless system.
Catering reports offer valuable insights for schools. From using food ordering reports to improving the decision-making process when planning menus to free school meal usage insights, utilising this type of information plays a significant role in helping schools to improve processes for future investments.
There are many ways reports from cashless software, like Infinity+, can help caterers learn more about the business. Infinity+ offers fully automated reporting, with the ability to download reports into Excel. Infinity+ enables schools to gain insights faster, make informed decisions, and help increase school meal uptake.

By using the Infinity+ cashless catering system, caterers and schools can download reports such as free school meal usage and meal uptake. These reports give caterers the upper hand in knowing important information, like how many school meals to prep for each day, which meals aren't selling well, and more. Understanding essential data like this helps caterers reduce the amount of wasted food, which trickles down to saving money and time spent ordering new stock.

There are ten popular reports from Infinity+ cashless that schools and caterers use to make informed decisions, helping them save time on banking activities and understand sales trends. 

Catering Report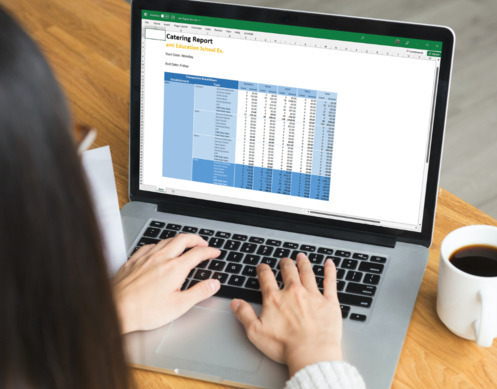 The 'catering report' is the most popular report used by ami Education customers. The report gives the caterers the resources to break down transactions by period, account type, and amount of supplement spent at multi-establishment sites. Caterers can get an in-depth overview of school lunch transactions, helping to predict ordering trends from pupils. An overview of school lunch transactions is vital, as it lowers the chance of food waste and knowing what stock to order for the future.
Sales Mix Report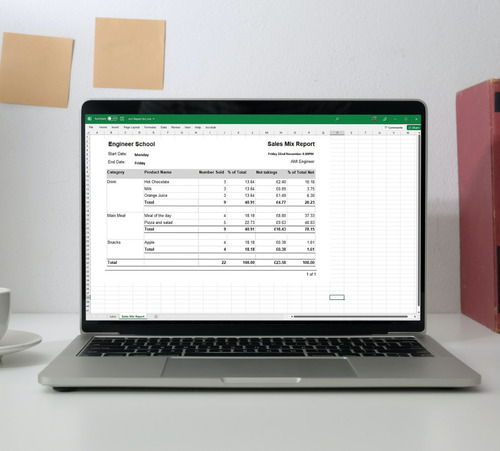 Knowing the number of products sold can significantly increase the understanding of favoured food/drink items. The sales mix report provides caterers and schools with an overview of the number of products sold, split by product categories during a specified date or time frame. Utilising this report can save caterers and schools the manual process of working out sales at the end of the day, week or month, allowing them to compare product sales to previous months.



To see the eight other popular reports used by schools and caterers, download our top 10 Infinity+ Reports guide to learn more!
ami News, Education
11-07-2022
Integrated Chip & Pin is now available for schools! We are delighted to announce that Ami Education customers can directly facilitate fast, automatic card payments effortlessly with our Infinity+ cashless system.
Launching integrated Chip & Pin to the education market
Brand new to the education market, our Chip & Pin feature is fully integrated with our Infinity+ cashless solution, making time-consuming payments and manual reporting a thing of the past.
Schools can now accept all major forms of payment, including debit and credit cards, contactless payments, and Apple Pay and Google Pay. This means schools can expand their catering offering to parents, guardians, and school visitors without being registered in their cashless system.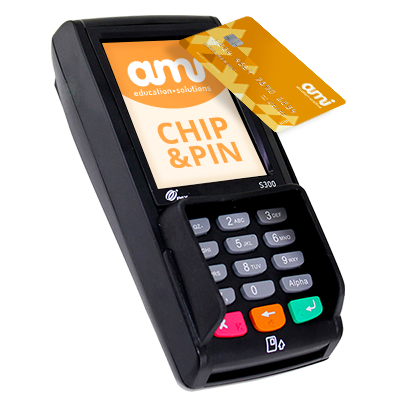 The benefits of integrated card payments for schools
The integrated solution automatically displays transaction amounts on the payment pin entry device (PED) at the PoS for seamlessly quick payments. Furthermore, all card payments are consolidated as part of your cashless takings report, giving schools one true source without the need to manually add up card payments separately at the end of the day.
The key features and benefits of Chip & Pin include:
Fast and secure payments
Remove unnecessary payment barriers to help increase catering uptake
Supports all major card payments and Apple Pay and Google Pay
Reduced human error in payments and reporting
Consolidated cashless reports, with no manual adding up at the end of the day
"Here at Ami Education, we are delighted to announce the release of our integrated Chip & Pin functionality to the education sector. This is a feature that our customers, particularly sixth-form colleges and secondary schools, are excited to integrate with their Infinity+ cashless solution, and I am so pleased to announce that we've done exactly that!
This launch will change the world of cashless catering, and it's all down to how we listen, engage, and deliver to our customer base. Massive applause to everyone involved and a big thank you to our customers."
- Ash Grabowski, Business Development Manager at Ami Education
Impact of integrated Chip & Pin
Here at Ami Education, we help schools deliver a quick and consistent school meal service through our cashless catering technology. This new Chip & Pin integration with our Infinity+ cashless solution allows schools to boost sales with increased uptake of catering at school events and parent evenings and by opening up their catering offering to visitors. There are enormous time and monetary savings in switching to this integrated method, especially for our customers currently utilising 3rd party Chip & Pin payment providers.
Want to book a demonstration with our team?
Book a call today.


Or take a look at our Chip & Pin and Infinity+ solutions here.