Customer Advice COVID-19
27-03-2020
As schools face the many challenges caused by Coronavirus (COVID-19), we want to assure you that at AMI Education, we are closely monitoring the situation to ensure we can continue to support our customers.
We take our duty of care to our employees, customers and clients very seriously, and we will always follow the latest Government advice.
Advice to Schools
As a valued AMI Education customer, we appreciate the trust you put in us to ensure your systems continue to work seamlessly, so we have outlined our continuity plans below.
School Closures
If your school should need to close, we ask that your systems remain switched on and running. Keeping your systems running will allow our support team to carry out remote upgrades and work on outstanding cases, helping to reduce any issues and ensuring your return to school is as seamless as possible.
Ongoing Support
In the event of COVID-19 closing the AMI office, or employees working from home in isolation, staff will be working from home using their office equipment.
For sales, please ring: 08456 717 101 or email: sales@amieducation.com
For support please: 08450 714 667 or email: support@amieducation.com
As usual, these will be picked up by the support/sales team and dealt with.
We may have to postpone already arranged site visits, and there may be some delay in processing orders for parts. We encourage you to continue to place orders as usual, and we will update you on the expected timelines as the order progresses.
Staying Safe
As the coronavirus situation evolves, our thoughts go out to all affected. We hope you are safe and are taking all the necessary precautions.
ami News, Education
11-07-2022
Integrated Chip & Pin is now available for schools! We are delighted to announce that Ami Education customers can directly facilitate fast, automatic card payments effortlessly with our Infinity+ cashless system.
Launching integrated Chip & Pin to the education market
Brand new to the education market, our Chip & Pin feature is fully integrated with our Infinity+ cashless solution, making time-consuming payments and manual reporting a thing of the past.
Schools can now accept all major forms of payment, including debit and credit cards, contactless payments, and Apple Pay and Google Pay. This means schools can expand their catering offering to parents, guardians, and school visitors without being registered in their cashless system.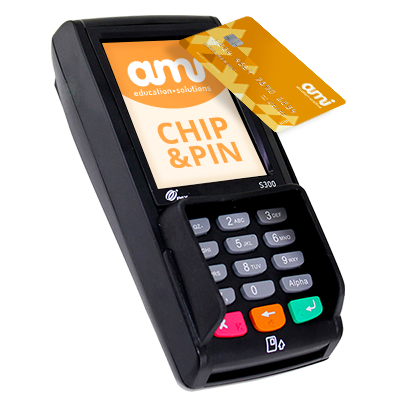 The benefits of integrated card payments for schools
The integrated solution automatically displays transaction amounts on the payment pin entry device (PED) at the PoS for seamlessly quick payments. Furthermore, all card payments are consolidated as part of your cashless takings report, giving schools one true source without the need to manually add up card payments separately at the end of the day.
The key features and benefits of Chip & Pin include:
Fast and secure payments
Remove unnecessary payment barriers to help increase catering uptake
Supports all major card payments and Apple Pay and Google Pay
Reduced human error in payments and reporting
Consolidated cashless reports, with no manual adding up at the end of the day
"Here at Ami Education, we are delighted to announce the release of our integrated Chip & Pin functionality to the education sector. This is a feature that our customers, particularly sixth-form colleges and secondary schools, are excited to integrate with their Infinity+ cashless solution, and I am so pleased to announce that we've done exactly that!
This launch will change the world of cashless catering, and it's all down to how we listen, engage, and deliver to our customer base. Massive applause to everyone involved and a big thank you to our customers."
- Ash Grabowski, Business Development Manager at Ami Education
Impact of integrated Chip & Pin
Here at Ami Education, we help schools deliver a quick and consistent school meal service through our cashless catering technology. This new Chip & Pin integration with our Infinity+ cashless solution allows schools to boost sales with increased uptake of catering at school events and parent evenings and by opening up their catering offering to visitors. There are enormous time and monetary savings in switching to this integrated method, especially for our customers currently utilising 3rd party Chip & Pin payment providers.
Want to book a demonstration with our team?
Book a call today.


Or take a look at our Chip & Pin and Infinity+ solutions here.
ami News

19-05-2022
Since we first joined LinkedIn a few years ago, we have been utilising the social network to keep our followers up to date with our education solutions, Transact and Infinity+. We have been sharing the latest industry news and gaining an insight into our follower's opinions on specific subjects. LinkedIn has been our go-to tool to introduce the world to our innovative education solutions.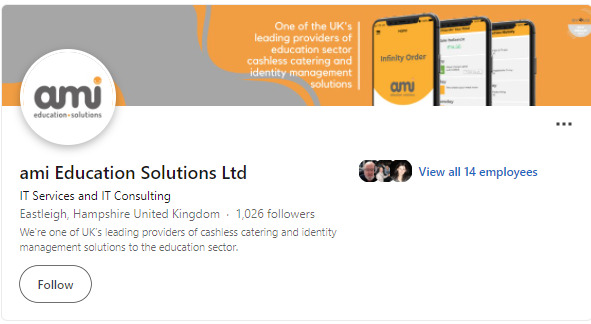 We want to take this opportunity to thank everyone who has followed our LinkedIn account, supporting us through liking, sharing and commenting on our content. We can't wait to continue growing our online presence and reach more industry professionals than ever before in the coming years. 
Why do professionals use LinkedIn?
LinkedIn is a powerful social platform and one of the largest global online networks used to build new industry connections, search for job prospects, learn insights from your favourite businesses and discover new leads via B2B content. LinkedIn's goal is to connect the world's professionals to make them more productive and successful.

The social platform has an estimated audience of over 830 million members in more than 200 countries. LinkedIn has proven worthwhile to thousands of employers and job seekers, with 122 million people receiving an interview through LinkedIn. Unsurprisingly, three people are hired through LinkedIn every minute. 

Many educational professionals worldwide use LinkedIn to network and connect with fellow professionals. However, LinkedIn can do more than just networking. Other features like joining groups such as 'Teacher Leadership Network' can help educational professionals to connect, join in with discussions, learn from other educators, share best practices or even discover new technology like Infinity+ Software.


LinkedIn is known to be vital for discovering leads. B2B marketers have reported that 80% of their social media leads come from LinkedIn, and 40% see LinkedIn as the most effective channel for driving high-quality leads. LinkedIn is a brilliant tool for sharing insider knowledge, personal stories, awareness days, polls and resources with other professionals in the industry.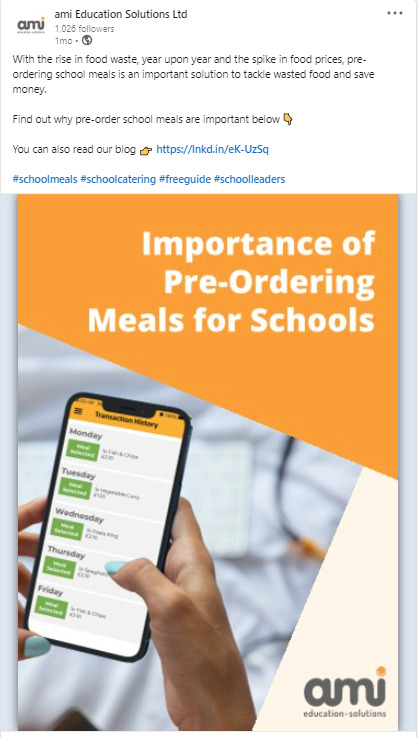 For example, on the ami Education LinkedIn page, we have recently published a free guide on why 'pre-ordering solutions are important for schools'—identifying problems that schools could face, like food waste and how our Infinity+ Order app can solve this. 

Whether you want to get involved with industry awareness days, have access to free guides and knowledge or stay up to date with our exciting development, follow our LinkedIn page to get started! Thank you for your continued support.