Brand new to the education sector!
Integrated Chip & Pin Launch for Cashless Schools
11-07-2022
Integrated Chip & Pin is now available for schools! We are delighted to announce that Ami Education customers can directly facilitate fast, automatic card payments effortlessly with our Infinity+ cashless system.
Launching integrated Chip & Pin to the education market
Brand new to the education market, our Chip & Pin feature is fully integrated with our Infinity+ cashless solution, making time-consuming payments and manual reporting a thing of the past.
Schools can now accept all major forms of payment, including debit and credit cards, contactless payments, and Apple Pay and Google Pay. This means schools can expand their catering offering to parents, guardians, and school visitors without being registered in their cashless system.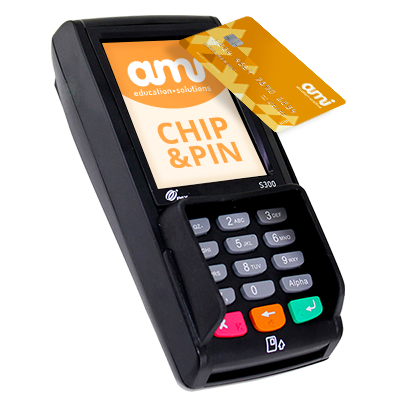 The benefits of integrated card payments for schools
The integrated solution automatically displays transaction amounts on the payment pin entry device (PED) at the PoS for seamlessly quick payments. Furthermore, all card payments are consolidated as part of your cashless takings report, giving schools one true source without the need to manually add up card payments separately at the end of the day.
The key features and benefits of Chip & Pin include:
Fast and secure payments
Remove unnecessary payment barriers to help increase catering uptake
Supports all major card payments and Apple Pay and Google Pay
Reduced human error in payments and reporting
Consolidated cashless reports, with no manual adding up at the end of the day
"Here at Ami Education, we are delighted to announce the release of our integrated Chip & Pin functionality to the education sector. This is a feature that our customers, particularly sixth-form colleges and secondary schools, are excited to integrate with their Infinity+ cashless solution, and I am so pleased to announce that we've done exactly that!
This launch will change the world of cashless catering, and it's all down to how we listen, engage, and deliver to our customer base. Massive applause to everyone involved and a big thank you to our customers."
- Ash Grabowski, Business Development Manager at Ami Education
Impact of integrated Chip & Pin
Here at Ami Education, we help schools deliver a quick and consistent school meal service through our cashless catering technology. This new Chip & Pin integration with our Infinity+ cashless solution allows schools to boost sales with increased uptake of catering at school events and parent evenings and by opening up their catering offering to visitors. There are enormous time and monetary savings in switching to this integrated method, especially for our customers currently utilising 3rd party Chip & Pin payment providers.
Want to book a demonstration with our team?
Book a call today.


Or take a look at our Chip & Pin and Infinity+ solutions here.
ami News
25-05-2023
The Schools & Academies Show is an exciting event that brings together education professionals, school leaders, and decision-makers across the UK. The show serves as a platform for showcasing innovative solutions, such as cashless catering, and sharing best practices in the education sector.


Amidst the buzz and enthusiasm, ami Education had the pleasure of exhibiting at the event alongside Tucasi, payment and administration software providers.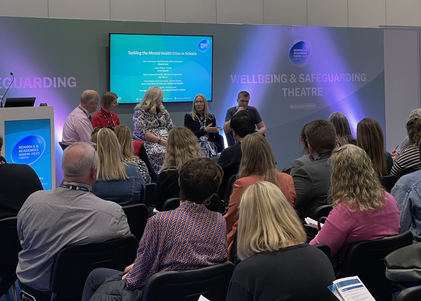 Infinity+ Cashless and Chip & Pin live demonstrations
At the Schools & Academies Show, ami Education proudly showcased the Infinity+ Cashless catering system, revolutionising cashless processes in UK and international schools.


The live demonstrations highlighted the seamless and efficient point-of-sale experience, impressing attendees. This smart system manages student accounts and processes orders at the point of sale effortlessly, providing a convenient and secure dining experience. Visitors learned about the extensive reporting suite, offering insights from free school meal usage to catering reports and discovered how to harness this data to streamline operations and reduce administrative tasks.


Furthermore, ami Education debuted their highly anticipated Chip & Pin technology, which received a positive response at the event. Popular amongst sixth forms and secondary schools, attendees experienced the contactless solution and appreciated the availability of multiple payment methods. Attendees saw first-hand how ami Education's Chip & Pin terminals optimise the dining experience and empower educational institutions to streamline operations and provide a seamless payment experience.
"Our POS software is evolving with features such as Chip & Pin and additional features. But the next big thing we've got to do now is go cloud-based."
- Tony Reeves, General Manager.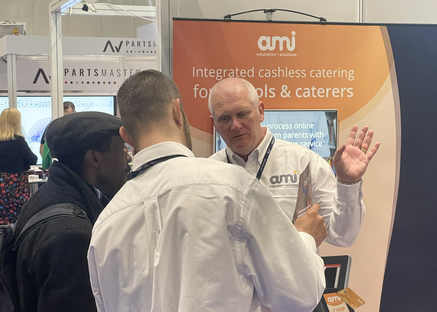 Infinity+ Order receives positive engagement with attendees
Alongside the Infinity+ Cashless & Chip & Pin demonstrations, ami Education was excited to showcase its cutting-edge Infinity+ Order pre-order school meal app at the Schools & Academies Show. The demonstrations highlighted how students could seamlessly check balances, browse menus, and conveniently pre-order their meals from their mobile phones.
This revolutionary app transforms how students order their meals, ensuring efficiency and convenience. With Infinity+ Order, pupils have easy access to a wide range of menu options, the ability to pre-order meals in advance, and the flexibility to customise their choices based on dietary requirements or allergies.
The Infinity+ Order app empowers staff to efficiently manage meal preparation and reduce food waste by accurately anticipating meal demand. This topic was very relevant at the show due to the current challenges schools and academies face. The app lets pupils control their dining experience, ensuring they receive their desired meals quickly and conveniently.

"Schools are starting to like the pre-order solution, as they can allow pupils to pre-order up to three weeks in advance. Pupils only have to go to the till point and collect their meal."
- Tony Reeves, General Manager.
ami Education's participation in the Schools & Academies Show at the London Excel was met with excitement and enthusiasm.


The Schools & Academies Show served as an excellent platform to showcase our solutions, and we are grateful for the opportunity to contribute to positive change in school catering. ami Education remains dedicated to driving innovation, fostering positive experiences, and propelling the education sector forward.


To gain further insights into the exciting world of ami Education,

watch our exclusive interview

with Tony Reeves, our General Manager. In the interview, Tony delves into groundbreaking innovations, transformative approaches, and the future of cashless solutions in education. This interview provides a deeper understanding of our commitment to advancing education institutions.

If you couldn't attend the event but still want a demonstration, don't worry! Book a demo with our team today to learn about implementing cashless catering, pre-ordering or Chip & Pin software in your school. Our team are here to provide all the information and support you need.
ami News
02-05-2023
We are delighted to announce that ami Education will be showcasing our Infinity+ cashless catering product suite at the upcoming Schools and Academies Show in Excel, London, on May 17th.
Explore Our Infinity+ Cashless Catering Product Suite
We are excited to join forces with school admin and online payment provider Tucasi at stand G16 to demonstrate our integrated cashless and online payment solutions for schools and academies.


During the event, we will showcase our Infinity + cashless catering product suite, including brand-new Chip & Pin payments and pre-order meal app, designed specifically for secondary school and sixth-form students. Attendees will benefit from a first-hand demonstration of our cashless software.



"We can't wait to team up with Tucasi to bring our integrated cashless solutions to the Schools and Academies Show. As one of the key events in the education calendar, the show will offer an excellent chance to provide real-time demonstrations of exciting new developments from ami Education and, importantly, connect with professionals and find out more about their school needs and discover how we can support their development plans."

-Tony Reeves, General Manager at ami Education.


Discover the Latest Cashless and Online Payment Solutions
The Schools and Academies Show is a great opportunity for schools and academies to discover the latest technology and products for the education sector. At ami Education, we are excited to showcase our unique product offering which combines our Infinity+ cashless system with a comprehensive reporting suite, pre-order and payment options, and fast speed of service, all fully integrated with Tucasi's SCOPAY online payment app.


Whether you want to streamline your cashless payments, improve your catering service, or simply want a faster, more efficient payment system, our solutions are tailored to meet the needs of schools and academies of all sizes.
Book Your Ticket
You can book your free event ticket for the Schools and Academies Show here. If you are attending the Schools and Academies Show, visit our team at stand G16 to learn more about our unique cashless and online payment solutions.


For those who cannot attend the show but would like to learn more about our cashless solutions, please book a demonstration with our team.