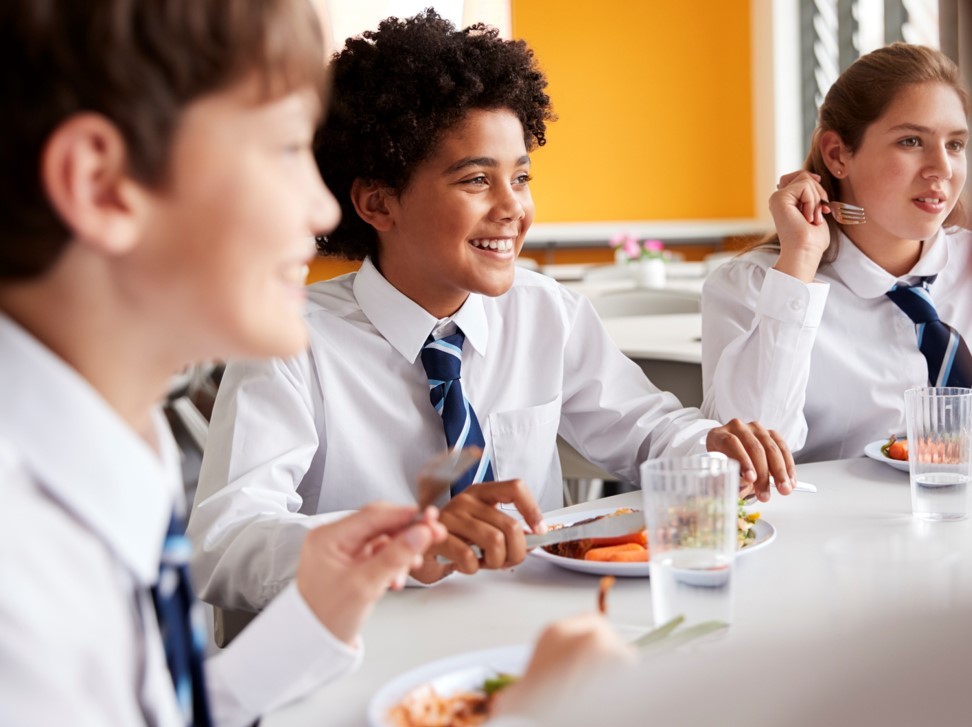 Taking Cash Out of Schools
26-03-2020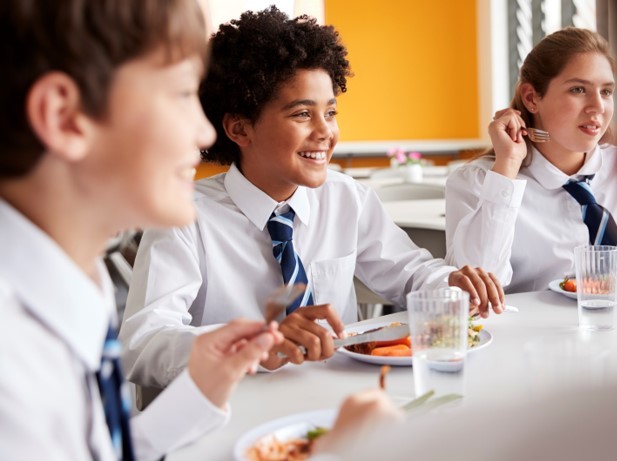 With automated payment methods and debit cards replacing traditional cash payments, it is becoming more common within businesses, industries and now most recently schools to also make the switch to cashless. Figures from the Payments Council published on Education Business reveal that cashless payments overtook traditional cash payments in 2014 for the first time.
What are the benefits to schools going cashless?
There are many benefits of switching to cashless systems, one of which is the effect on a school's budget and resources. Offering parents the ability to review their expenses and top-up their child's online account is a great way to boost a school's income and spend per pupil.
Although small payments such as those regularly made by parents for school meals, uniform and educational trips contribute considerably to the overall income of a school, they can also create a market deficit when they go unpaid. 'Dinner money debt' is now a serious concern for schools, with one council in Wales recently revealing a debt of over £130,000 aggregated over five years. With a cashless system, the potential for unpaid fees is diminished.
Furthermore, budgets are benefited by taking cash out of schools by saving the hefty cost of the physical collection of cash to deposit at a bank. Ami's cashless software generates daily, weekly or monthly reports with ease, providing access to reports on meals consumed, overdue accounts and food wastage, all of which contribute to lowering costs and reduced administration time.
As for the benefit of a school's resources, cashless catering systems free up a considerable amount of time for the administration staff. Taking cash out of schools means the tiresome task of physically collecting and chasing cash payments from pupils and parents via mail and telephone can be cut down entirely.
Software such as ami's Infinity and Transact frees up these important resources and allows them to be used in other ways. Administration staff can monitor payments and view historic purchases with ease and make audit trailing a lot more efficient. Schools in the UK using cashless software have saved on average two and a half days administration time a month.
How do cashless schools benefit parents and students?
Taking cash out of the school system is not only time saving, but for parents, it gives them the peace of mind that money is being spent in the way it is intended with online payments. Pre-paid school meals mean parents know that the money they give their children for healthy, nutritious meals, is being spent on just that!
Additionally, parents no longer need to send cash or cheques for circumstances such as school trips or extra-curricular activities. 90 per cent of parents stated that they preferred to pay online, according to a survey from LACA.
Ami's cashless catering solutions also increase parent convenience and control as they are accessible from any location with an internet connection, optimising the increasing access parents have to computer and hand-held devices. According to The Telegraph, almost one in 10 public school pupils are from overseas and so this level of access is especially useful for those families.
What are the benefits of removing physical cash from schools?
Removing physical cash from schools allows for greater student safety. Adopting a cashless system prevents age-old issues such as bullying, lunch money theft and potential misplacement or loss and eliminates any money safety issues. Students also no longer need to worry about forgetting to take cash to school with them and missing out on things such as meals, as they are already pre-ordered and paid for.
How can going cashless make a school more efficient?
Ami's cashless catering software is flexible and works around each school's requirements. During lunchtimes, for example, cashless software systems provide important time-saving benefits such as reducing queues. Schools can cut down lengthy waiting times for their students and staff through quick and simple identification methods such as PINs, pre-order kiosks and more.
With the ability to pre-order meals in advance, food wastage is greatly minimised. Ami's software allows school meal service providers (i.e. kitchens either on the school premises or elsewhere) to know exactly how many portions of each meal option to prepare that day, eliminating the need for over-catering and ensuring children receive the meal that they want.
What benefits does a cashless system have on a social level?
Cashless catering software removes any potential discrimination of students by providing 'Free School Meals' (FSM) anonymity. A recent LACA survey revealed that 4.9 per cent of pupils entitled to a free meal do not take up their entitlement. The stigma of FSM is still very much apparent in schools, yet with a cashless system, all students have the same method of payment option, regardless of their circumstance.
Cashless systems have also been proven to promote healthy eating as it encourages pupils to eat the nutritious meals provided, something which is exceedingly important when tackling the childhood obesity crisis and leading to a better learning environment. Mealtime pre-ordering encourages parent engagement and allows parents to control what their children are consuming in the hours they are not with them.
Education
13-09-2021
When presented with a slice of pizza or a salad, most pupils will likely choose the pizza. For many students, the fast, greasy, and fried option will ultimately be more appealing.
When faced with this reality, combined with the ever-increasing accessibility of fast, takeaway foods from outlets such as Deliveroo and JustEat, schools and parents face increasing challenges to get pupils to make healthier eating choices in schools. At ami Education, we're looking at simple and practical ways to encourage healthy eating in schools and the impact on pupils.
Emphasise nutrition education
Many of us understand how the food we eat impacts our everyday life, including our concentration levels, mood, skin, hair, and even sleep. However, some pupils, especially those without an active interest in food and nutrition, risk not understanding the full extent to which the food they put in their bodies affects their life.
Schools, parents, and guardians can take an active role in educating pupils about nutrition and the impact that a healthy diet has on their ability to learn, as well as their life outside of the classroom.
Focusing on how food can make us feel and demonstrating how the choices we make regarding food directly affects the way we behave enables action-based learning which pupils can apply to their everyday life.
For example, demonstrating how switching from white pasta to wholewheat pasta can keep us fuller for longer and therefore reduce the risk of excess snacking and how simple changes can make a significant impact and encourages pupils to take an active role in their health.
Food labels and online resources
Nutrition and allergen information on food labels is mandatory. With Natasha's Law soon to come into effect, which will require all food businesses, including school caterers, to include accurate and in-depth ingredient lists on food labels, pupils must learn what this information means to them.
Nutrition information can help us to make informed food choices, and educating pupils on how to read and process food labels is crucial, especially if we want pupils to carry healthy eating habits into adulthood.
In the classroom, teachers can provide worksheets for pupils to fill in and compare food labels from different products. Food A Fact Of Life, managed by the British Nutrition Foundation, which provides free educational resources for nutrition education, suggests providing pupils with clean packaging from a range of standard and healthy food options.
The pupils can read and compare food labels and discuss the findings with their classmates, such as the first ingredient listed in each product, compare the sugar and fat contents, and why some products are more likely to contain higher amounts of sugars than others.
Online resources are not only available to schools but also to parents and guardians. Websites such as Change4Life, launched in 2009 as part of a national goal set out in the government's Healthy Weight, Healthy Lives initiative, is designed to ensure parents and guardians have the essential support and tools they need to make healthier choices for their family.
Change4Life provides fun activities, recipes, and a range of food facts to help educate families on nutrition and provide a fun and interactive way for children to learn about a healthy lifestyle. Visit the Change4Life website to access these resources.
School dinners vs packed lunches
Whilst school catering teams strive to provide nutritious and tasty lunches to help power pupils through the day, the prevalence of packed lunches is a challenge for schools aiming to meet strict nutritional standards.
In UK schools, there is currently no government guidance on packed school lunches. Whilst individual schools in England can decide their policy on food brought in from home, compared with hot school meals required to meet strict nutritional standards, packed lunches face fewer restrictions and increase the likelihood of unhealthy food brought in.
Research conducted by the Children's Food Trust in 2013 compared hot school meals against packed lunches following new compulsory school food standards. The research found that school meals are now consistently more nutritious than packed lunches, giving children who eat them a better foundation for good health.
For pupils of all ages, opting for hot school lunches where possible ensure their lunch choices will contain:
High-quality meat, poultry or oily fish
Fruit and vegetables
Bread, other cereals and potatoes
Parents and pupils can also rest assured that restrictions for hot school meals apply to:
Drinks with added sugar, crisps, chocolate, or sweets
Limits of no more than two portions of deep-fried, battered, or breaded food a week
Offer a familiar ordering experience for pupils
Technology plays a significant part in our everyday lives, especially for secondary school students. With easily accessible food delivery apps like Uber Eats and Deliveroo on every mobile phone, providing a solution that competes with these out-of-the-gate spending options and encouraging pupils back in the dining hall has never been easier.
Technology like ami's Infinity+ Order app breaks the confines of the school dining hall and enables pupils to pre-order their school meals directly from their mobile phone, anytime, anywhere. Infinity+ Order offers secondary school pupils a familiar food ordering method whilst providing a host of other benefits to pupils and school staff, including:
Reduced lunch queues - pupils pre-order their meals ready to collect at lunchtime
Pupils can view their live cashless balance and previous transaction history anytime, anywhere
Helps reduce food wastage by informing school catering teams of what to prepare in advance
Reporting suite assists with stock control and trend predictions
From ground to fork
An increasing number of UK schools are now dedicating school ground spaces to growing fresh fruit and vegetables to serve in the school dining hall.
This new teaching method encourages pupils to make healthy eating choices in school by involving them in where their food comes from and teaching about food production outside of the classroom and the overall process from ground to fork.
For establishments with ground space to spare, providing areas for pupils to grow fresh fruits and vegetables teaches them to take an active interest in the food they eat.
Teaching pupils the value of growing their food encourages students to opt for lunch choices they grew and provides freshly grown, organic foods that appeal to students.
One UK school pioneering the way in growing and rearing its own produce is Charlton Manor Primary School, based in South-East London. Its pupils grow figs, oranges, tomatoes, grapes, and kiwis. There are also chickens and three beehives on-site, whilst the school has a campaign team made up of year 5 and 6 pupils to raise awareness about healthy diets.
"Charlton is a brilliant example of a school bringing together gardening and healthy eating. With vision and a bit of dedication, any school can get growing." Chris Collins, Head of Organic Horticulture for Garden Organic.
Get started
Encouraging students to make healthy choices in school can often seem like an uphill battle. With these simple tips and a wealth of online resources available for schools and parents, we can all get involved with inspiring the next generation to take control over their health, both inside and outside of the classroom.
Interested in learning more about Infinity+ Order? Get in touch to learn more about how pre-ordering can benefit your school.
Education
10-06-2021
The role of schools in forming lifelong healthy eating habits cannot be underestimated. By providing effective nutrition education alongside healthy school meals, schools can equip pupils with the tools they need to make healthier choices both in adolescence and in later life.
As this week marks the British Nutrition Foundation's Healthy Eating Week, which focuses on 'finding your healthier you' journey, we have compiled 7 practical steps to improving nutrition in schools and encouraging positive long-term eating habits.
What are the government food standards and regulations for schools?
According to gov.uk, food served in schools and academies in England must meet the School Food Standards so that children have healthy, balanced diets.
Meals must provide high-quality meat, poultry or oily fish, fruit and vegetables, bread, and other cereals and potatoes. There cannot be drinks with added sugar and crisps, chocolate or sweets in school meals or vending machines, alongside a limit of no more than two portions of deep-fried, battered, or breaded food a week.
Are schools delivering adequate nutrition to staff and pupils?
Whilst the School Food Standards are in place to ensure schools encourage pupils to develop healthy food choices, some schools struggle to get the correct nutrition and balanced diet to not only their students but to their staff body, and for various reasons.
There are various reasons for this struggle, and one most evident is the lack of efficient management in their school systems.
One of the biggest offenders of an unhealthy diet in pupils is the day-to-day slog of mealtime queuing in schools. Long wait times for school lunches combined with a short amount of time to eat increases the likelihood of pupils making lunch choices based on convenience and availability.
Therefore, mealtime queuing can be one of the main contributors to unhealthy food choices in schools, leading to malnutrition, reduced productivity, and childhood obesity.
Out-of-gate spending
As pupils turn to alternative methods to queueing for school lunches, out-of-gate spending increases further. According to Q Minder, a secondary school in London found that its pupils were rejecting food in a school canteen and instead favoured the option to leave school grounds and purchase their lunches, rather than queue for the school meals provided.
This kind of out-of-gate spending can mean students are consuming unhealthy foods for lunch, which the school cannot have complete control over, increasing the risk of childhood weight gain and poor nutrition in children.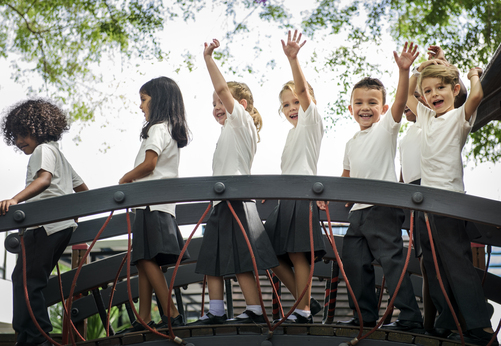 Doctor Dame Sally Davies warns obesity poses such a threat to the country that we should treat it as a national risk alongside terrorism, noted in a recent interview for The Telegraph. This statement was accompanied by a survey which found that obesity prevalence was 13.9% among 2- to 5-year-olds, 18.4% among 6- to 11-year-olds, and 20.6% among 12- to 19-year-olds.
How can schools teach children about food nutrition and a healthy diet?
According to the school blog KSL, there are seven helpful pointers to assist schools with their approach to food with pupils in a healthy and educational way. These include:
1. Be mindful of language - avoid using 'bad versus good' language surrounding food choices, which teaches kids to categorise food types based on morality can lead to shame and guilt when indulging in the occasional treat.
2. Teach that food is fuel for the body - encourage children to associate nutritious foods with gaining energy to do all the things they love.
3. Encourage trying new foods - use taste testing, introduce variety and teach pupils about the exciting foods on offer in different countries.
4. Teach the principle of variety - provide education on a balanced meal, and link this back to the enjoyment of food and how nutritious food can also be tasty.
5. Back to nature - connect kids to gardening, agriculture and teach them about where foods come from with 'grow your own' activities in lessons.
6. Teach the importance of inclusivity - reinforce the idea that all foods can be included, in moderation, in a balanced diet. Avoid discussing eliminating food groups.
7. Teach kids to respect biological diversity - discuss messages of size diversity in the context of a lesson on nutrition.
The link between cashless operations and pupil diets
Cashless catering systems, such as AMI's Infinity + software, offers complete flexibility and works around the requirements of each school. During school mealtimes, cashless systems reduce queues by using quicker identification methods and pre-order payments. These cashless methods ensure pupils spend less time queuing and have more time to eat a healthy school lunch.
The pre-order aspect of this software minimises food wastage whilst providing detailed allergy and dietary requirement information. The app also enables schools to remove any potential discrimination of students by offering Free School Meals (FSM) anonymity.
A LACA survey revealed that 4.9% of pupils entitled to a free school meal do not take up their entitlement, possibly due to parents not wanting their children to face potential embarrassment and discrimination.
A cashless system also promotes healthy eating in schools as it reduces and controls the level of out-of-the-gate spending on unhealthy meals and snacks. Pre-order software, such as the Infinity+ Order pre-order app, mirrors modern food ordering apps such as Deliveroo, which encourages pupils to control their food choices and guarantees they can enjoy their favourite lunch every day.
Healthier lunch options that meet nutritional requirements is one of the most effective ways to tackle the childhood obesity crisis, leading to a better learning environment and reducing food insecurity by establishing a lifetime of healthy habits in students.
Furthermore, AMI's Infinity + cashless catering and ID management software enables parents to take an active role in their children's daily school food consumption, despite them not being present at school throughout the day.
When using the Infinity+ Order pre-order app, parents can sit with their children and help them make educated and balanced food choices, ensuring their child is getting a healthy and nutritious meal during school hours. The cashless catering options of AMI Education means parents can rest assured the money spent on school meals is used to make healthy food choices backed by a comprehensive education on nutrition in schools.
Are you looking to make your school cashless?
Get in touch with our team to see how ami's cashless solutions can benefit your school.