Why pre-ordering meals is important for schools
22-07-2020

What are the benefits of pre-ordered school meals?
Reports have found that food wastage costs schools over £250 million each year. Pre-ordering school meals reduces food wastage drastically and associated costs. This innovative software aims to reduce food wastage by providing school meal service providers with exact numbers of meal portions to prepare that day, eliminating the need for over-catering and ensuring children receive the meal they want.
Although school caterers generally have information on the number of pupils they are cooking for, they have no information about the specific numbers for each meal option in most schools. Although they are skilled at estimating how many children will choose each meal, they have no way of knowing the exact numbers, and this lack of information can result in food wastage.
What are the benefits of pre-ordered school meals to students and parents?
With a system that allows pre-ordered school meals, children and parents can choose their preferred meal option meaning not only reduced wastage but better food education, encouragement of healthy food options and increased parental engagement.
According to BUPA, the UK has one of the highest rates of childhood obesity in Europe, with 1 in 10 children aged 4 to 5 classified as obese and around 1 in 5 children aged 10 to 11. Pre-ordering meal software allows pupils to be actively involved in planning their meal choice and to take ownership of their diets.
Recent research has focused on how environmental changes and behavioural economics can guide children to make healthier choices to encourage students to select more nutritious foods. Pre-ordering school meals could pre-empt hunger-based, random selections and eliminate the sensory cues—evocative smells and sights—that lead to less healthy choices.
For a student, getting their meal choice, feeling comfortable with the process, not being rushed, and not having to wait in long queues are critical elements for schools adopting a pre-ordered approach to school meals.
There is also the benefit for children with food allergies and intolerances, as pupils can select a pre-ordered meal according to the necessary specifications.
Pre-ordering school meals also benefit students by reducing queueing at mealtimes. The lunchtime rush becomes a smoother experience with meals already ordered and paid for, as children simply have to collect their chosen meal from the cafeteria.
Reducing student meal queuing times further means a reduced percentage of pupils favouring out-of-the-gate spending, lowering the likelihood of excessive junk food consumption, leading to childhood obesity.
Pre-ordering is essentially pre-empting, and in today's society, using technology to plan ahead is the most efficient way to control an entity such as a school. Technology enables schools to pre-plan, taking the opportunity for human error and unnecessary time spent away and allowing better use of school resources.
ami News, Education
11-07-2022
Integrated Chip & Pin is now available for schools! We are delighted to announce that Ami Education customers can directly facilitate fast, automatic card payments effortlessly with our Infinity+ cashless system.
Launching integrated Chip & Pin to the education market
Brand new to the education market, our Chip & Pin feature is fully integrated with our Infinity+ cashless solution, making time-consuming payments and manual reporting a thing of the past.
Schools can now accept all major forms of payment, including debit and credit cards, contactless payments, and Apple Pay and Google Pay. This means schools can expand their catering offering to parents, guardians, and school visitors without being registered in their cashless system.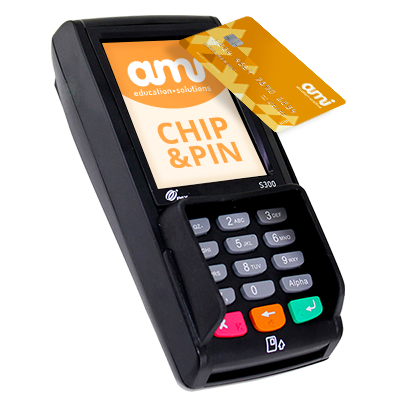 The benefits of integrated card payments for schools
The integrated solution automatically displays transaction amounts on the payment pin entry device (PED) at the PoS for seamlessly quick payments. Furthermore, all card payments are consolidated as part of your cashless takings report, giving schools one true source without the need to manually add up card payments separately at the end of the day.
The key features and benefits of Chip & Pin include:
Fast and secure payments
Remove unnecessary payment barriers to help increase catering uptake
Supports all major card payments and Apple Pay and Google Pay
Reduced human error in payments and reporting
Consolidated cashless reports, with no manual adding up at the end of the day
"Here at Ami Education, we are delighted to announce the release of our integrated Chip & Pin functionality to the education sector. This is a feature that our customers, particularly sixth-form colleges and secondary schools, are excited to integrate with their Infinity+ cashless solution, and I am so pleased to announce that we've done exactly that!
This launch will change the world of cashless catering, and it's all down to how we listen, engage, and deliver to our customer base. Massive applause to everyone involved and a big thank you to our customers."
- Ash Grabowski, Business Development Manager at Ami Education
Impact of integrated Chip & Pin
Here at Ami Education, we help schools deliver a quick and consistent school meal service through our cashless catering technology. This new Chip & Pin integration with our Infinity+ cashless solution allows schools to boost sales with increased uptake of catering at school events and parent evenings and by opening up their catering offering to visitors. There are enormous time and monetary savings in switching to this integrated method, especially for our customers currently utilising 3rd party Chip & Pin payment providers.
Want to book a demonstration with our team?
Book a call today.


Or take a look at our Chip & Pin and Infinity+ solutions here.
ami News

19-05-2022
Since we first joined LinkedIn a few years ago, we have been utilising the social network to keep our followers up to date with our education solutions, Transact and Infinity+. We have been sharing the latest industry news and gaining an insight into our follower's opinions on specific subjects. LinkedIn has been our go-to tool to introduce the world to our innovative education solutions.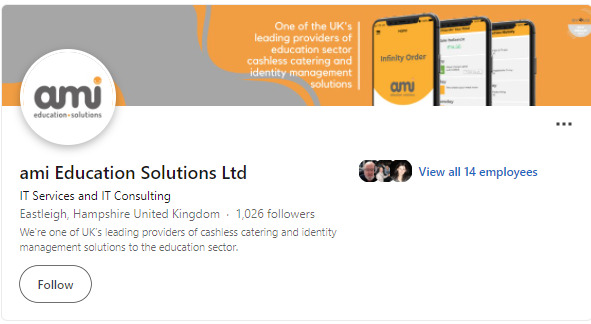 We want to take this opportunity to thank everyone who has followed our LinkedIn account, supporting us through liking, sharing and commenting on our content. We can't wait to continue growing our online presence and reach more industry professionals than ever before in the coming years. 
Why do professionals use LinkedIn?
LinkedIn is a powerful social platform and one of the largest global online networks used to build new industry connections, search for job prospects, learn insights from your favourite businesses and discover new leads via B2B content. LinkedIn's goal is to connect the world's professionals to make them more productive and successful.

The social platform has an estimated audience of over 830 million members in more than 200 countries. LinkedIn has proven worthwhile to thousands of employers and job seekers, with 122 million people receiving an interview through LinkedIn. Unsurprisingly, three people are hired through LinkedIn every minute. 

Many educational professionals worldwide use LinkedIn to network and connect with fellow professionals. However, LinkedIn can do more than just networking. Other features like joining groups such as 'Teacher Leadership Network' can help educational professionals to connect, join in with discussions, learn from other educators, share best practices or even discover new technology like Infinity+ Software.


LinkedIn is known to be vital for discovering leads. B2B marketers have reported that 80% of their social media leads come from LinkedIn, and 40% see LinkedIn as the most effective channel for driving high-quality leads. LinkedIn is a brilliant tool for sharing insider knowledge, personal stories, awareness days, polls and resources with other professionals in the industry.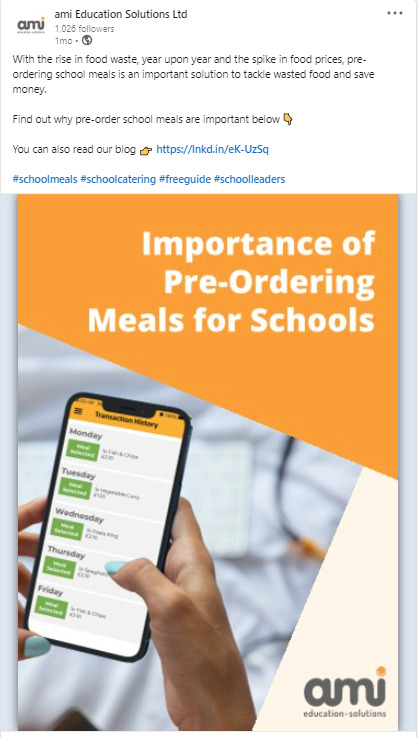 For example, on the ami Education LinkedIn page, we have recently published a free guide on why 'pre-ordering solutions are important for schools'—identifying problems that schools could face, like food waste and how our Infinity+ Order app can solve this. 

Whether you want to get involved with industry awareness days, have access to free guides and knowledge or stay up to date with our exciting development, follow our LinkedIn page to get started! Thank you for your continued support.