How to encourage healthy eating in schools
13-09-2021
When presented with a slice of pizza or a salad, most pupils will likely choose the pizza. The fast, greasy, and fried option will ultimately appeal to many students.
When faced with this reality, combined with the ever-increasing accessibility of fast, takeaway foods from outlets such as Deliveroo and JustEat, schools and parents face increasing challenges to get pupils to make healthier eating choices in schools. At ami Education, we are looking at practical and straightforward ways to encourage healthy eating in schools and the impact on pupils.
Emphasise nutrition education
Many of us understand how the food we eat impacts our everyday life, including our concentration levels, mood, skin, hair, and even sleep. However, some pupils, especially those without an active interest in food and nutrition, risk not understanding the full extent to which the food they put in their bodies affects their life.
Schools, parents, and guardians can take an active role in educating pupils about nutrition and the impact of a healthy diet on their ability to learn and their life outside of the classroom.
Focusing on how food can make us feel and demonstrating how the choices we make regarding food directly affects the way we behave enables action-based learning, which pupils can apply to their everyday life.
For example, demonstrating how switching from white pasta to wholewheat pasta can keep us fuller for longer and reduce the risk of excess snacking and how simple changes can significantly impact and encourage pupils to take an active role in their health.
Food labels and online resources
Nutrition and allergen information on food labels is mandatory. With Natasha's Law soon to come into effect, which will require all food businesses, including school caterers, to include accurate and in-depth ingredient lists on food labels, pupils must learn what this information means to them.
Nutrition information can help us make informed food choices. Educating pupils on reading and processing food labels is crucial, especially if we want pupils to carry healthy eating habits into adulthood.
Teachers can provide worksheets for pupils to fill in and compare food labels from different products in the classroom. Food A Fact Of Life, managed by the British Nutrition Foundation, which provides free educational resources for nutrition education, suggests providing pupils with clean packaging from a range of standard and healthy food options.
The pupils can read and compare food labels and discuss the findings with their classmates, such as the first ingredient listed in each product, compare the sugar and fat contents, and why some products are more likely to contain higher amounts of sugars than others.
Online resources are not only available to schools but also parents and guardians. Websites such as Change4Life, launched in 2009 as part of a national goal set out in the government's Healthy Weight, Healthy Lives initiative, is designed to ensure parents and guardians have the essential support and tools they need to make healthier choices for their family.
Change4Life provides fun activities, recipes, and a range of food facts to help educate families on nutrition and provide a fun and interactive way for children to learn about a healthy lifestyle. Visit the Change4Life website to access these resources.
School dinners vs packed lunches
Whilst school catering teams strive to provide nutritious and tasty lunches to help power pupils through the day, the prevalence of packed lunches is a challenge for schools aiming to meet strict nutritional standards.
There is currently no government guidance on packed school lunches in UK schools. Whilst individual schools in England can decide their policy on food brought in from home, compared with hot school meals required to meet strict nutritional standards, packed lunches face fewer restrictions and increase the likelihood of unhealthy food brought in.
Research conducted by the Children's Food Trust in 2013 compared hot school meals against packed lunches following new compulsory school food standards. The research found that school meals are now consistently more nutritious than packed lunches, giving children who eat them a better foundation for good health.
For pupils of all ages, opting for hot school lunches where possible ensure their lunch choices will contain:
High-quality meat, poultry or oily fish
Fruit and vegetables
Bread, other cereals and potatoes
Parents and pupils can also rest assured that restrictions for hot school meals apply to:
Drinks with added sugar, crisps, chocolate, or sweets
Limits of no more than two portions of deep-fried, battered, or breaded food a week
Offer a familiar ordering experience for pupils
Technology plays a significant part in our everyday lives, especially secondary school students. With easily accessible food delivery apps like Uber Eats and Deliveroo on every mobile phone, it has never been easier to provide a solution that competes with these out-of-the-gate spending options and encourage pupils back in the dining hall.
Technology like ami's Infinity+ Order app breaks the confines of the school dining hall and enables pupils to pre-order their school meals directly from their mobile phone, anytime, anywhere. Infinity+ Order offers secondary school pupils a familiar food ordering method whilst providing a host of other benefits to pupils and school staff, including:
Reduced lunch queues - pupils pre-order their meals ready to collect at lunchtime
Pupils can view their live cashless balance and previous transaction history anytime, anywhere
Helps reduce food wastage by informing school catering teams of what to prepare in advance
Reporting suite assists with stock control and trend predictions
From ground to fork
An increasing number of UK schools are now dedicating school ground spaces to growing fresh fruit and vegetables to serve in the school dining hall.
This new teaching method encourages pupils to make healthy eating choices in school by involving them in where their food comes from and teaching about food production outside of the classroom and the overall process from ground to fork.
For establishments with ground space to spare, providing areas for pupils to grow fresh fruits and vegetables teaches them to take an active interest in the food they eat.
Teaching pupils the value of growing their food encourages students to opt for lunch choices they grew and provides freshly grown, organic foods that appeal to students.
One UK school pioneering the way in growing and rearing its produce is Charlton Manor Primary School, based in South-East London. Its pupils grow figs, oranges, tomatoes, grapes, and kiwis. There are also chickens and three beehives on-site, whilst the school has a campaign team made up of year 5 and 6 pupils to raise awareness about healthy diets.
"Charlton is a brilliant example of a school bringing together gardening and healthy eating. With vision and a bit of dedication, any school can get growing." Chris Collins, Head of Organic Horticulture for Garden Organic.
Get started
Encouraging students to make healthy choices in school can often seem like an uphill battle. With these simple tips and a wealth of online resources available for schools and parents, we can all get involved with inspiring the next generation to take control over their health, both inside and outside of the classroom.
Interested in learning more about Infinity+ Order? Get in touch to learn more about how pre-ordering can benefit your school.
ami News
25-05-2023
The Schools & Academies Show is an exciting event that brings together education professionals, school leaders, and decision-makers across the UK. The show serves as a platform for showcasing innovative solutions, such as cashless catering, and sharing best practices in the education sector.


Amidst the buzz and enthusiasm, ami Education had the pleasure of exhibiting at the event alongside Tucasi, payment and administration software providers.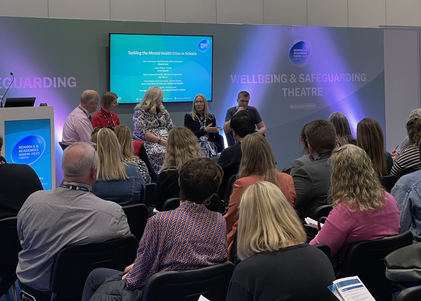 Infinity+ Cashless and Chip & Pin live demonstrations
At the Schools & Academies Show, ami Education proudly showcased the Infinity+ Cashless catering system, revolutionising cashless processes in UK and international schools.


The live demonstrations highlighted the seamless and efficient point-of-sale experience, impressing attendees. This smart system manages student accounts and processes orders at the point of sale effortlessly, providing a convenient and secure dining experience. Visitors learned about the extensive reporting suite, offering insights from free school meal usage to catering reports and discovered how to harness this data to streamline operations and reduce administrative tasks.


Furthermore, ami Education debuted their highly anticipated Chip & Pin technology, which received a positive response at the event. Popular amongst sixth forms and secondary schools, attendees experienced the contactless solution and appreciated the availability of multiple payment methods. Attendees saw first-hand how ami Education's Chip & Pin terminals optimise the dining experience and empower educational institutions to streamline operations and provide a seamless payment experience.
"Our POS software is evolving with features such as Chip & Pin and additional features. But the next big thing we've got to do now is go cloud-based."
- Tony Reeves, General Manager.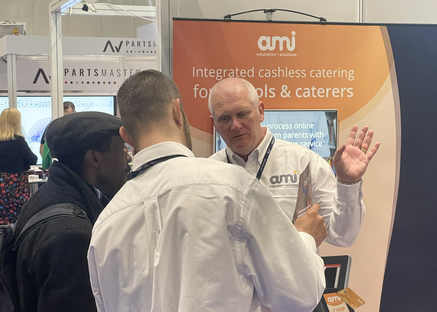 Infinity+ Order receives positive engagement with attendees
Alongside the Infinity+ Cashless & Chip & Pin demonstrations, ami Education was excited to showcase its cutting-edge Infinity+ Order pre-order school meal app at the Schools & Academies Show. The demonstrations highlighted how students could seamlessly check balances, browse menus, and conveniently pre-order their meals from their mobile phones.
This revolutionary app transforms how students order their meals, ensuring efficiency and convenience. With Infinity+ Order, pupils have easy access to a wide range of menu options, the ability to pre-order meals in advance, and the flexibility to customise their choices based on dietary requirements or allergies.
The Infinity+ Order app empowers staff to efficiently manage meal preparation and reduce food waste by accurately anticipating meal demand. This topic was very relevant at the show due to the current challenges schools and academies face. The app lets pupils control their dining experience, ensuring they receive their desired meals quickly and conveniently.

"Schools are starting to like the pre-order solution, as they can allow pupils to pre-order up to three weeks in advance. Pupils only have to go to the till point and collect their meal."
- Tony Reeves, General Manager.
ami Education's participation in the Schools & Academies Show at the London Excel was met with excitement and enthusiasm.


The Schools & Academies Show served as an excellent platform to showcase our solutions, and we are grateful for the opportunity to contribute to positive change in school catering. ami Education remains dedicated to driving innovation, fostering positive experiences, and propelling the education sector forward.


To gain further insights into the exciting world of ami Education,

watch our exclusive interview

with Tony Reeves, our General Manager. In the interview, Tony delves into groundbreaking innovations, transformative approaches, and the future of cashless solutions in education. This interview provides a deeper understanding of our commitment to advancing education institutions.

If you couldn't attend the event but still want a demonstration, don't worry! Book a demo with our team today to learn about implementing cashless catering, pre-ordering or Chip & Pin software in your school. Our team are here to provide all the information and support you need.
ami News
02-05-2023
We are delighted to announce that ami Education will be showcasing our Infinity+ cashless catering product suite at the upcoming Schools and Academies Show in Excel, London, on May 17th.
Explore Our Infinity+ Cashless Catering Product Suite
We are excited to join forces with school admin and online payment provider Tucasi at stand G16 to demonstrate our integrated cashless and online payment solutions for schools and academies.


During the event, we will showcase our Infinity + cashless catering product suite, including brand-new Chip & Pin payments and pre-order meal app, designed specifically for secondary school and sixth-form students. Attendees will benefit from a first-hand demonstration of our cashless software.



"We can't wait to team up with Tucasi to bring our integrated cashless solutions to the Schools and Academies Show. As one of the key events in the education calendar, the show will offer an excellent chance to provide real-time demonstrations of exciting new developments from ami Education and, importantly, connect with professionals and find out more about their school needs and discover how we can support their development plans."

-Tony Reeves, General Manager at ami Education.


Discover the Latest Cashless and Online Payment Solutions
The Schools and Academies Show is a great opportunity for schools and academies to discover the latest technology and products for the education sector. At ami Education, we are excited to showcase our unique product offering which combines our Infinity+ cashless system with a comprehensive reporting suite, pre-order and payment options, and fast speed of service, all fully integrated with Tucasi's SCOPAY online payment app.


Whether you want to streamline your cashless payments, improve your catering service, or simply want a faster, more efficient payment system, our solutions are tailored to meet the needs of schools and academies of all sizes.
Book Your Ticket
You can book your free event ticket for the Schools and Academies Show here. If you are attending the Schools and Academies Show, visit our team at stand G16 to learn more about our unique cashless and online payment solutions.


For those who cannot attend the show but would like to learn more about our cashless solutions, please book a demonstration with our team.